Laco Bremerhaven Manual Wind Navy Watch Ref 862105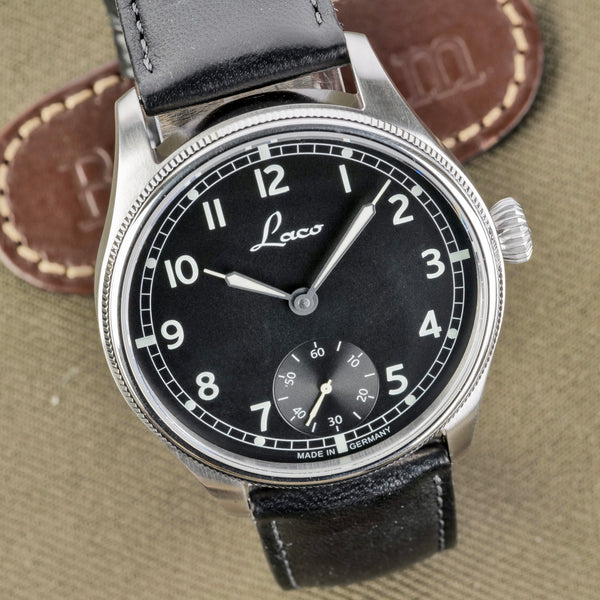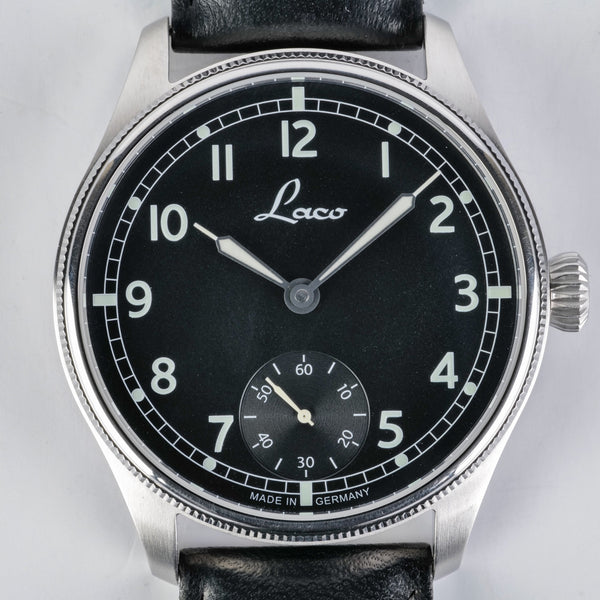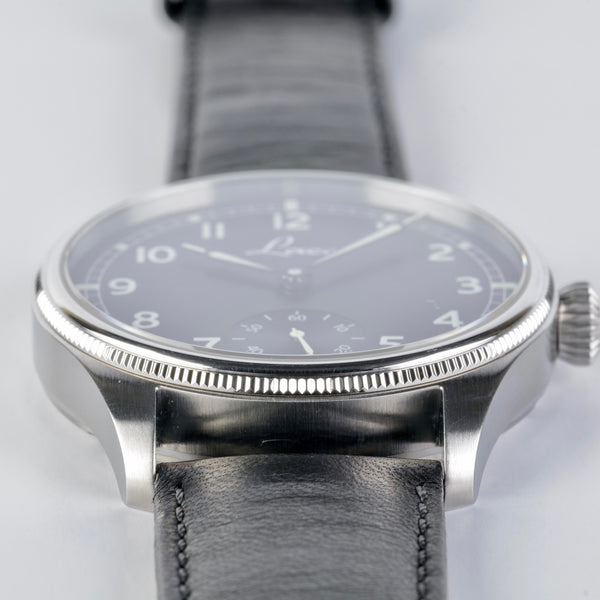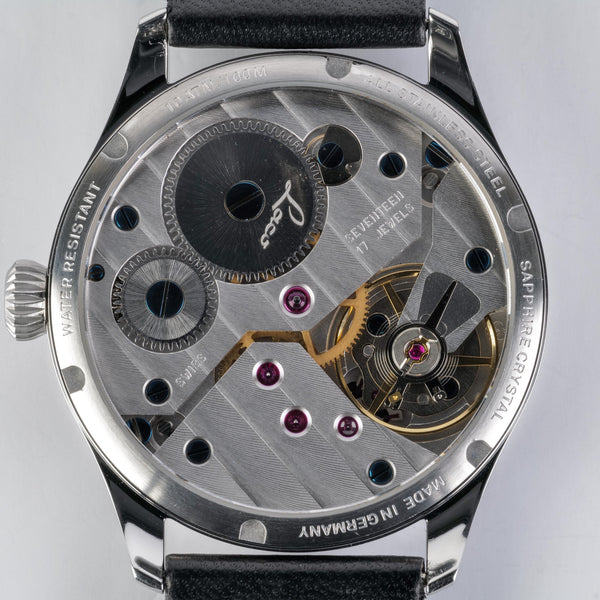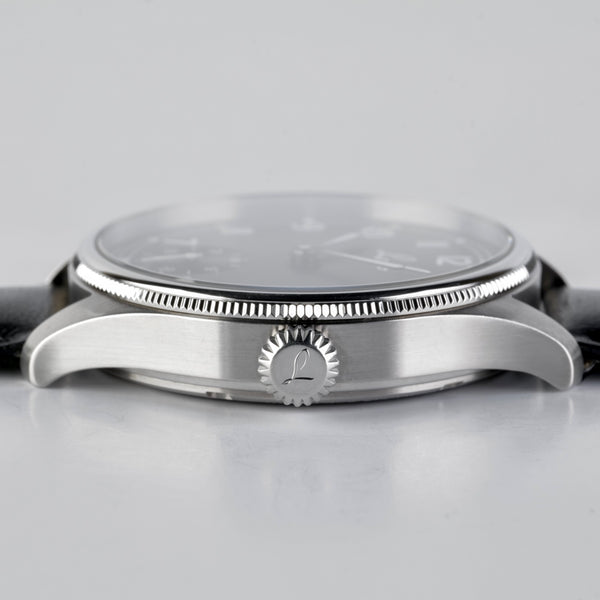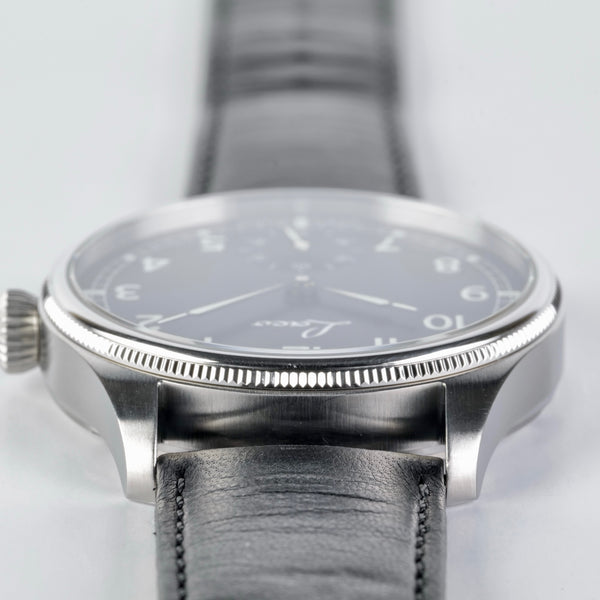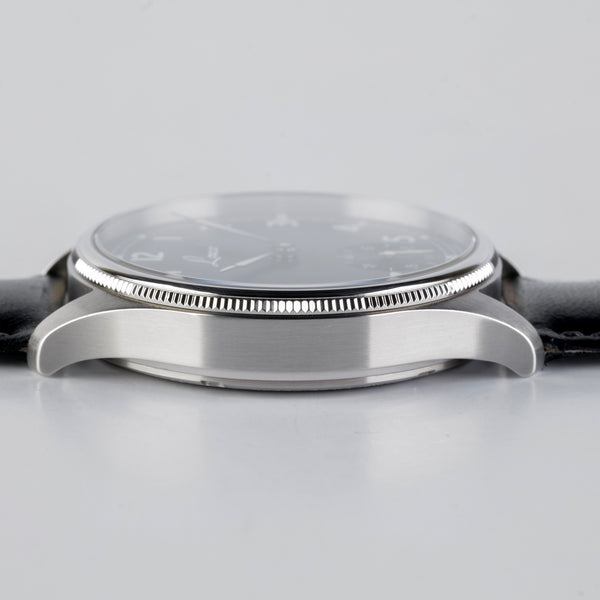 Looking for Something Like The Laco Bremerhaven Manual Wind Navy Watch Ref 862105?
Sign up for updates when we add pre-owned watches!
About the Watch:
With its design based on pocket watches of the 1940s, the Laco Bremerhaven Navy Watch is a modern timepiece with a vintage military aesthetic. The Bremerhaven has a clean, uncluttered dial and a manual-wind ETA 6498.1 Elaboré Grade movement, elegantly showcased by the sapphire crystal exhibition back.
The History:
The Laco brand was founded in Germany in 1925 by Frieda Lacher and Ludwig Hummel, who began producing the B-Uhren Observation watches during WWII for German pilots. Following the war, the company had to rebuild their factory. It was bought and sold multiple times, eventually being acquired by Erich Lacher Ruhrenfabrik, which was a company started by Frieda Lacher's son. The company was then turned over to Horst Günther, company manager, who reintroduced the successful military-inspired models, such as the Bremerhaven and Cuxhaven timepieces.
The Watch:
The Laco Bremerhaven Navy Watch features a 42.5mm stainless steel polished case with a sapphire crystal and a sapphire crystal exhibition back. Powered by an ETA 6498.1 elaboré grade manual-wind movement, the Bremerhaven has a 46-hour power reserve and a water resistance rating of 100 meters. The dial is matte black, with Arabic numerals painted with Super Luminova, lumed hour and minute sword-style hands with syringe-style tips. A small seconds dial with a sunburst pattern sits at the 6 o'clock position on the dial.
The Details:
This Laco Bremerhaven Navy Watch is in very good condition, with only minor wear visible on the case. There are some small scratches on the backside of the lugs from strap changes, which are visible in the photos. This listing is for the watch and a black leather 22mm after-market strap only.
Close (esc)
Join the Club!
Be the first to know about new watches, incoming pre-owned finds, watch related content and more.
Age verification
By clicking enter you are verifying that you are old enough to consume alcohol.